Inspiration for the Character: RJ PLOM
As the stories of Heaven's Wait eventually unfold, you will find that a key character by the name of R.J. PLOM is the accidental discoverer of this magical world. RJ was created to honor the memory of my dear father, Robert J. Marsicano. Discover a little about the man and the family behind the inspiration. I hope his real story gives you some insight into the development of RJ's journey. Barbara McLaughlin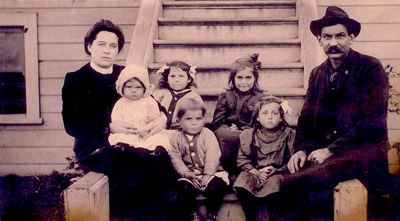 Bob was born to Camille and James Marsicano on October 26, 1917. His 'Ma' and 'Pa' raised nine children in their small home in West Berkeley, California. Bob was number 8. Pa not only held down a regular job; he also served as a volunteer Berkeley fireman and tended to his extensive vegetable garden, which allowed him to sell to local restaurants and stores to help support his large family. Needless to say, Ma tended to all those children. Pictured are Bob's older siblings. The little fellow on the front left side is Doc, who became the model for Heaven's Wait's "Jake".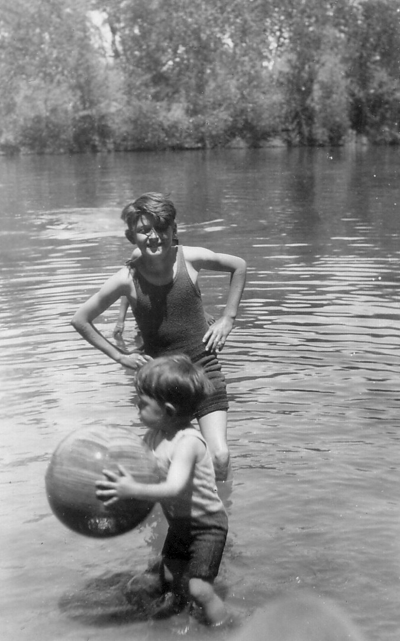 Bobby grew up in the days when there was little time for relaxation. With such a large family to take care of, he and his two brothers didn't fish for fun. They fished to help feed the family. They worked the land with their Pa, and they became handy at maintaining the needs of a household. So when the brothers eventually left the nest, solid work ethics were naturally tucked into their back pockets.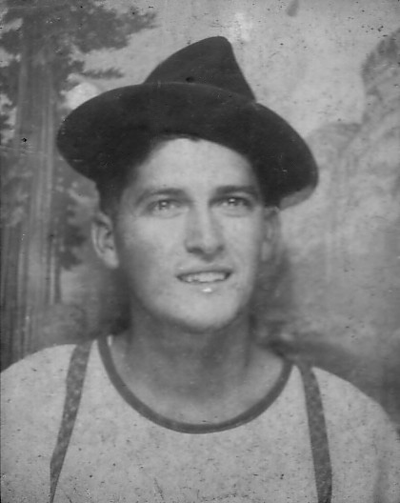 With movie star good looks, a silly sense of humor and a gentle demeanor, Bobby had some good times as a teen. After graduating from Berkeley High School, he attended evening trade school long enough to gain a background in industrial chemistry, which in turn landed him a job in the Botany Department at UC Berkeley, where he spent his entire working career.
When his country called during WWII, Bob joined the Army and served for more than three years not only in the Guadalcanal and New Georgia campaigns in the South Pacific, but also in grueling battles on Luzon Island in the Philippines. As a sergeant of an anti-tank squad, he led his squad himself into a point blank battle with an opposing tank, which paved the way for others in his division to successfully complete their mission. He was later honored for his efforts.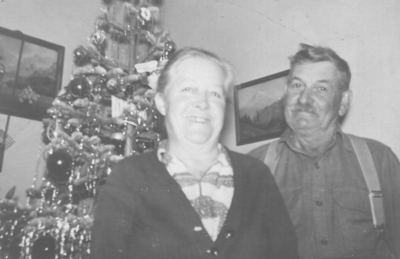 Back home, Ma and Pa naturally fretted over their sons in battle, with Bob in the South Pacific and his brother, Bud, at the European front. Though hard to see, a small American flag hung on the far left of this picture, as Ma and Pa celebrated the holidays while their sons were abroad. Brother Doc, too old for active duty, did his part by serving as a block warden during blackout periods.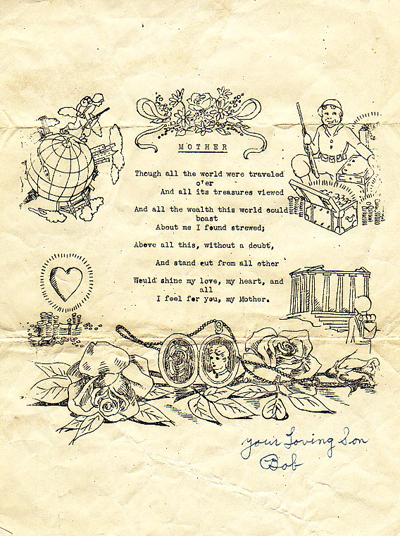 Always sentimental, both in good and bad times, Bob sent this poem to his mother while he was overseas….a keepsake still preserved as a reminder of a son's devotion to his mom.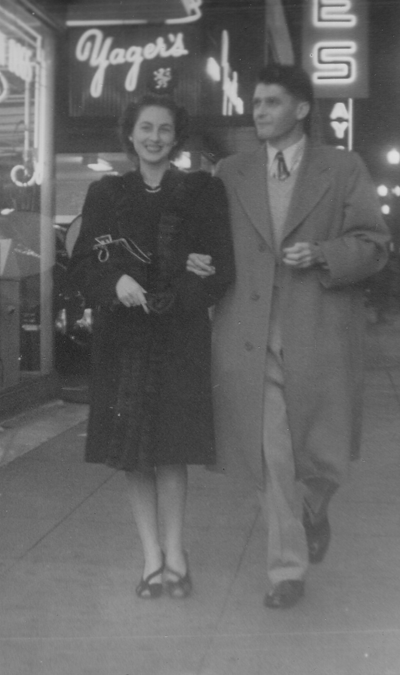 Safely back home, Bob returned to his job in the Botany Department at UC Berkeley. In November of 1947, at a local dance club, The Alibaba, he met a girl by the name of Trini Hernandez, who would soon become his bride. Amazingly, this picture was taken on their first date. Ah, the wonderful styles of the '40's.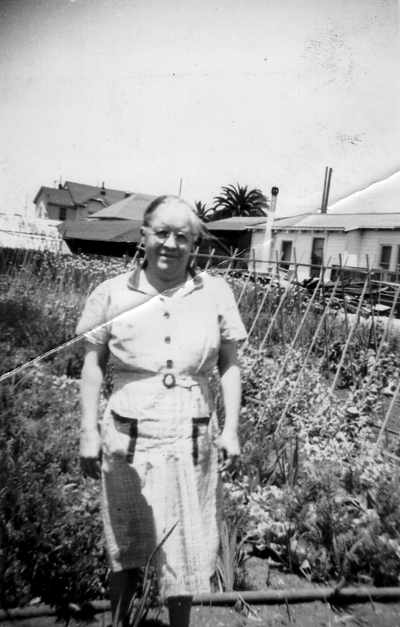 While Bob and his siblings grew up and moved on to their own lives, Ma and Pa worked their land through their later years. Their grandchildren had many tales to tell about that garden. Though Bob didn't carry on their vegetable gardening legacy, he avidly used his green thumb in many other creative ways with his own landscape.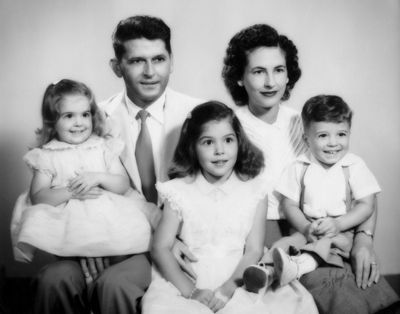 Of course, his greatest joys were his children, Donna, Barbara and Bill. Bob spent uncountable hours playing outside with them, and as they grew older, he became an undying cheerleader at all of their activities. He was a gentle, caring dad, and though his past experiences told of strength and bravery, underneath it all, he was a real softie, especially concerning his kids.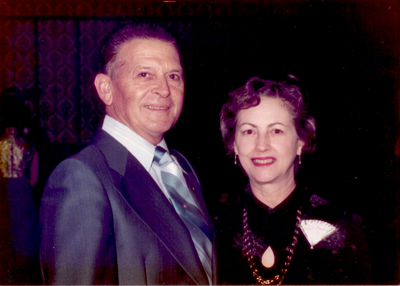 Always a dashing couple as years passed, Bob and Trini spent much of their recreational time together on the dance floor. They were beautiful ballroom dancers and belonged to the Saturday Nighters dance club for many years. Their kids, however, were never left behind. Decked out in jammies and slippers, they often danced up a storm with their parents in their cozy living room, while the music of Lawrence Welk flowed from the TV in the background.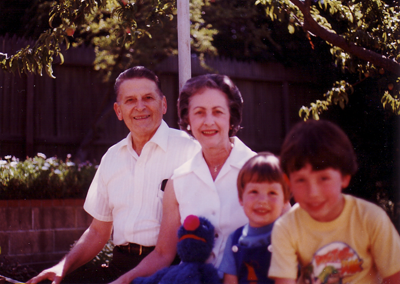 Illness struck much too soon for beloved Bob. Cancer sadly took him away from our world in 1984 at the age of 66. This was one of the last photos taken of Bob during happier times. He would have loved to see his grandsons grow up and see the world as it is today. But his legacy boasts his love of life and family. What a precious gift he left to those who continue to love him today.