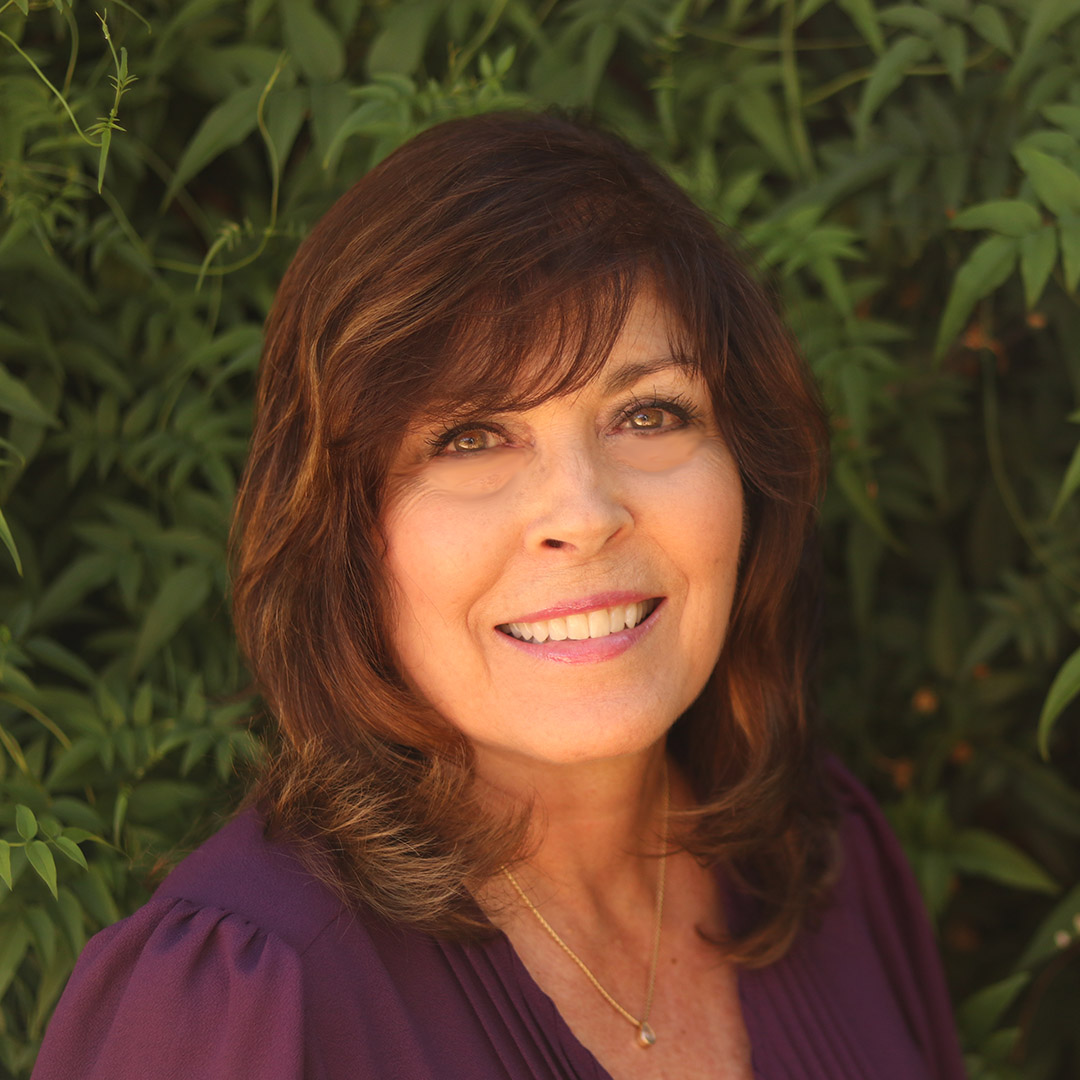 Hi! I'm Barbara McLaughlin. I'm a wife, mother, grandmother, business woman, gardener, foodie, writer, and an admitted creataholic. I grew up in the San Francisco Bay Area and continue to call it my home. I majored in Early Childhood Education during my college years, but never worked with primary children. Instead, I worked in remedial reading in middle schools for several years.
Once I became a stay-at-home mom, I realized that my creative side was itching to come out to play. My brain would spit out creative ideas without me having much say in the matter. I would dig into those ideas to see where they would take me. Many times, they would take me nowhere, and my sons would shake their head at me. But I did write a phonics-based remedial reading workbook, and I ran a home-based tutoring business during that time. With the passing of my father, however, I lost interest in pursuing that field further and flipped to operating a little gourmet foods business, since my husband had, at that time, ventured into the coffee industry. I've played a significant role at our family owned coffee roasting company since then.
Somewhere along the line, I decided I would try to share the ideas that popped into my head in case my creative tendencies had a chance of influencing others in a positive way. My creations would do no good sitting in my head or in my computer, hidden from the real world. That decision resulted in the evolution of Heaven's Wait. You will find a more detailed history of my Heaven's Wait work in my Blog. Welcome to my world.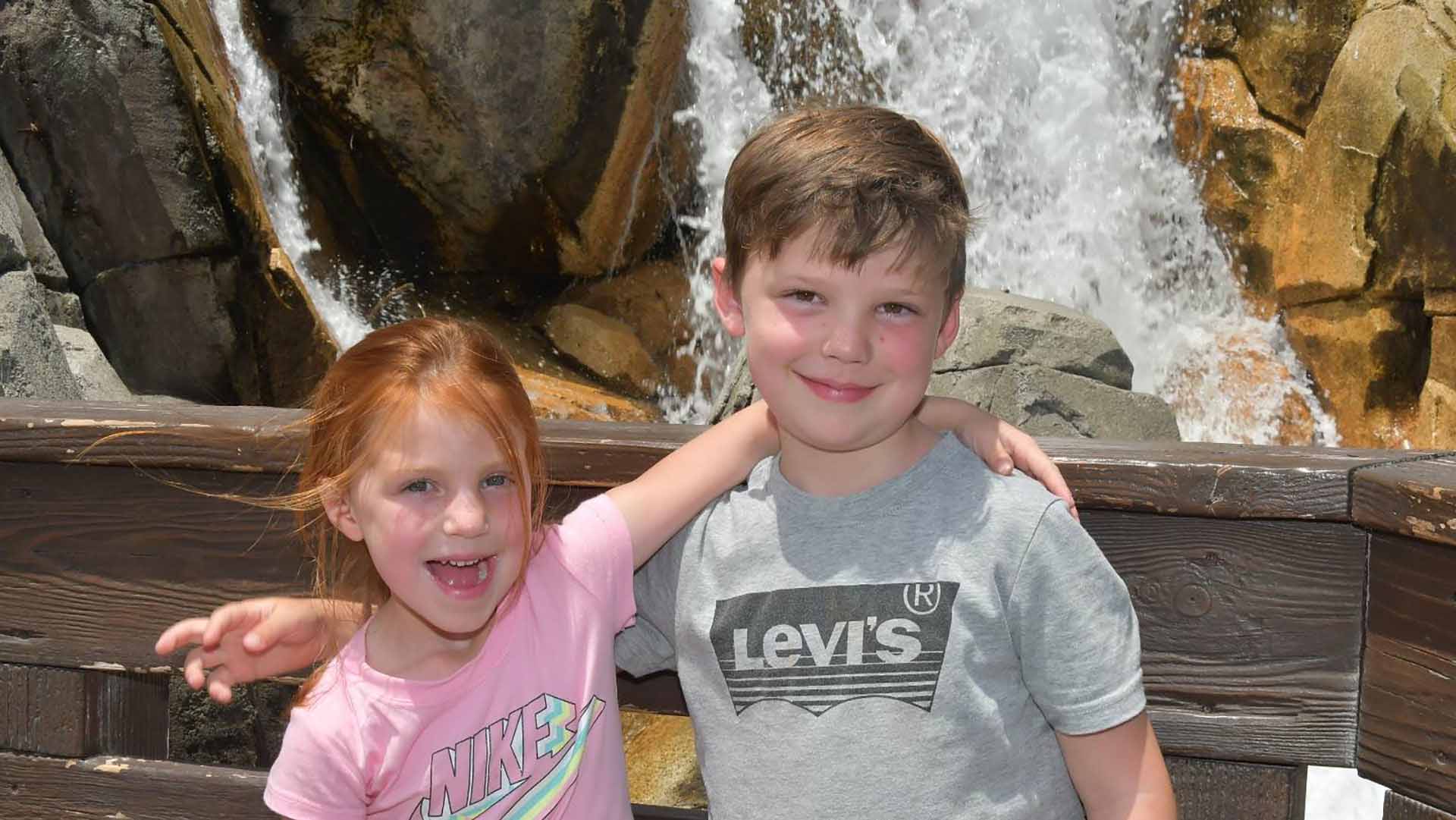 Family
I was blessed with an amazing house full of men: my husband, Mike, my son Mark, and my son Shaun.  We're very fortunate that we've always been close. The bond has proven invaluable as we've celebrated the joys in our lives, endured many life challenges, and addressed the various aspects and needs of our family business.
I have a wonderful sister, Donna, a kind and caring daughter-in-law, Sarah (Mark's wife), and two awesome grandchildren, Riley and Kinsley (Shaun's children.) The grandkids have great personalities and keep us all on our toes. We wouldn't have it any other way. The 8 of us love the precious time we spend together.
Of course, the creative bug runs in the family. We're always coming up with new things for all of us to do, and we usually have a pretty good time as a group doing whatever we come up with. We invent games and garden and have potato digs. We cook and bake and do treasure hunts and chalk drawings on driveways. We make up contests and do sports things and watch the old version of Willy Wonka a million times. We decorate the Christmas tree at various times throughout the year and wear funny costumes when inspired. We're never short on ideas.
Over the years, all of us have contributed to the creation of Heaven's Wait in some fashion. Many of the family's actions, quirks, incidents, sayings, and stories have provided great inspiration for my Heaven's Wait characters. You'll discover more details on that point as we go behind the scenes here in the Cat's Eyes View category of my blog posts.
Thank goodness for family!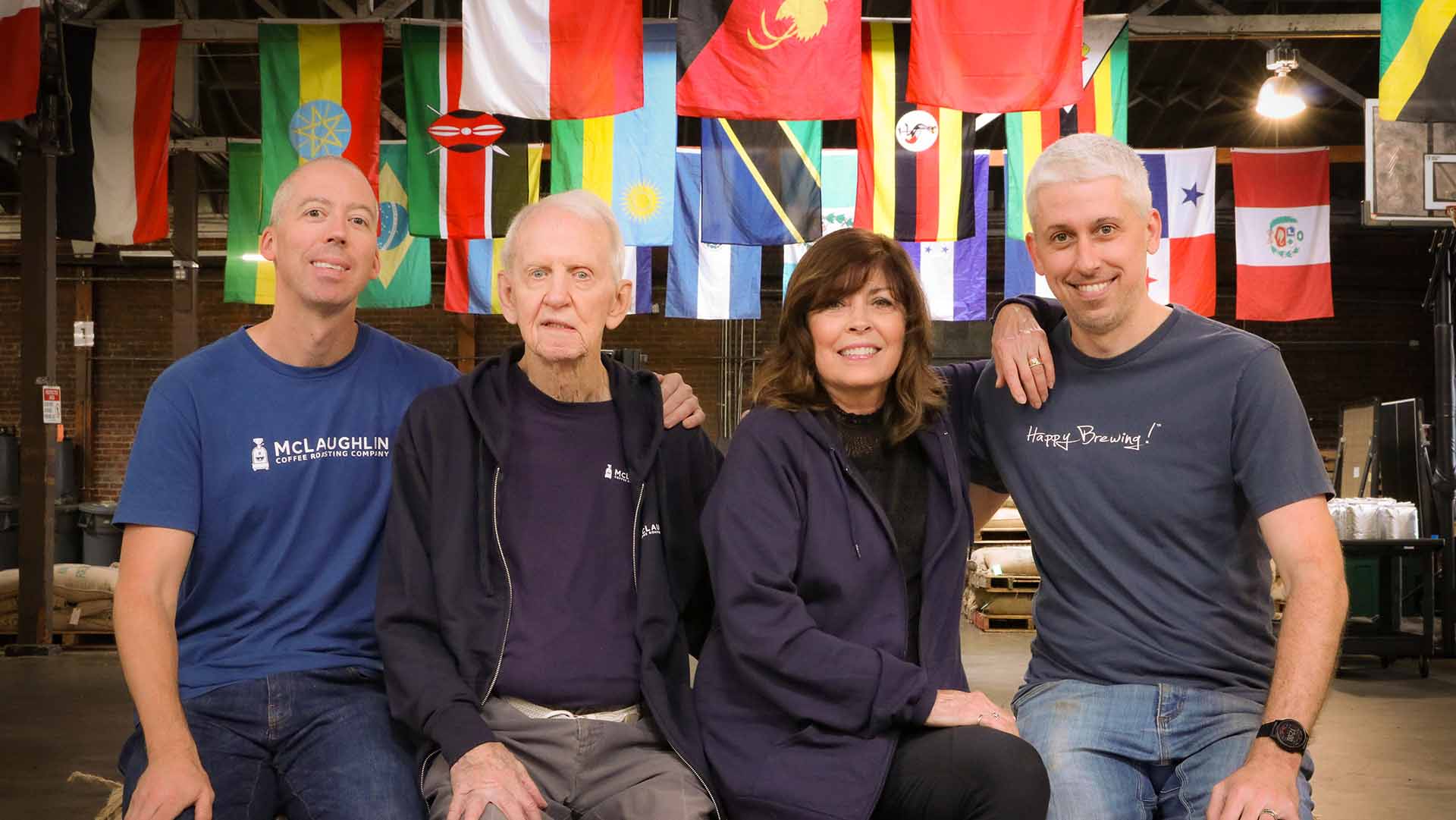 The Family Business
In 1983, my husband, Mike McLaughlin, influenced by two brothers and two cousins who were already established in the coffee industry, opened McLaughlin Coffee Roasting Company in Emeryville, CA.
It was in the day when Hills Bros Coffee Company decided to add a "gourmet" line to its standard coffee offerings. Because his brothers were connected to the Hills Bros group, Mike found a way in the door. He started roasting coffee in a 10 lb. peanut roasting machine and supplied Hills Bros with a variety of gourmet beans, with which they opened the first gourmet coffee store in the SF Bay Area. As we all know, the "gourmet" or "specialty" coffee industry exploded in the years that followed and continues to thrive in the Bay Area and around the world.
I took on the bookkeeping responsibilities for our company while Mike roasted the coffee in the wee hours of the morning. We were both total amateurs at our jobs, but we plugged along until we found our footing. Little by little, we hired employees and expanded our facility. Summer of 2023, the company will be celebrating its 40th Anniversary.
Sons Shaun and Mark grew up jumping on and roller skating between pallets of green coffee bags. Shaun always had in mind to join us at the company after getting his business degree, which he did. Mark worked as a computer engineer for a few years before he joined the rest of us. Now, our sons have taken the reins, while Mike relaxes and I stay involved part time and work on all things Heaven's Wait. We are grateful that the company remains a fixture in the Bay Area.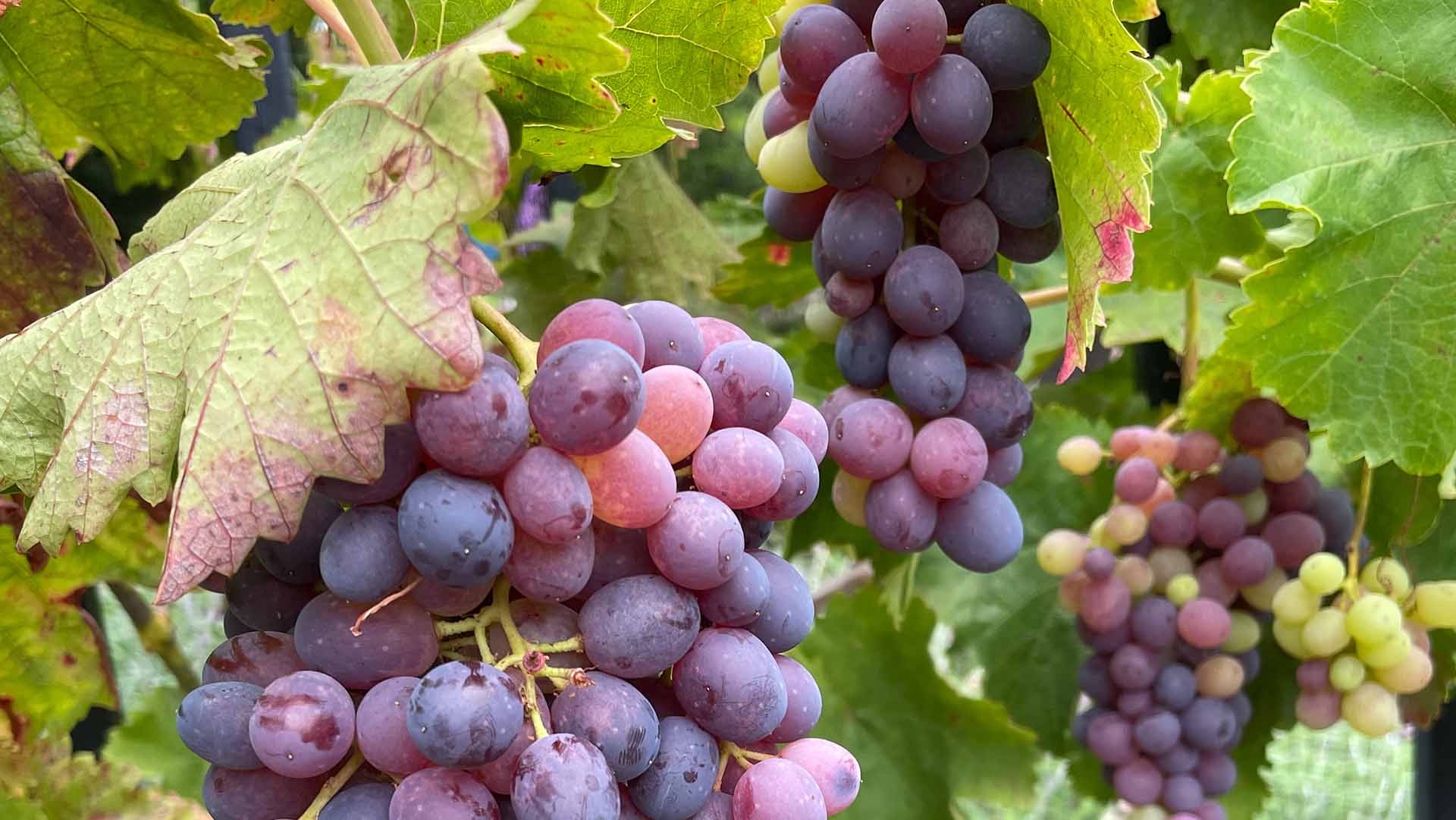 At Home
I can't help it…I've always been a homebody at heart. When I'm not working, doing family things, or keeping up with everyday life, you'll probably find me in one of three places: in my office with my head deep in Heaven's Wait, in my vegetable garden, or in the kitchen cooking up something new. I love the creative vibe that those three spaces generate and the peace and quiet that accompanies those spaces.
My most productive work on the world of Heaven's Wait comes in the early morning hours of the day, especially on the weekends. While the house is still, my mind fills with story lines and music that are waiting to be born or sitting in the wings. And since I am acting "executive producer" of this body of work for the moment, it's up to me to make the many facets of the work come together…the books, the music, the illustrations, the videos, the website, etc. It's all a bit overwhelming at times, but I love getting lost in the challenges.
My vegetable garden is my escape to the earth. I love its tranquility, its natural sounds and critters, and the calm space it provides for my ever-busy mind. I'm in constant awe of what nature can produce and the incredible beauty of its fruits. I can get lost in the garden for hours. I so appreciate the fact that such space is there for me to enjoy.
Of course, I can never let any of the garden's treasures fade. They come to my kitchen itching to be concocted into something good. I love the challenge. After many years of studying cuisine and failing in numerous ways, I'd say most times the concoctions are good these days. My creative side loves having another place to play. I never follow a recipe "exactly". I have to add or change something, even if it's quite subtle, to make it my own. So it is for this creataholic.