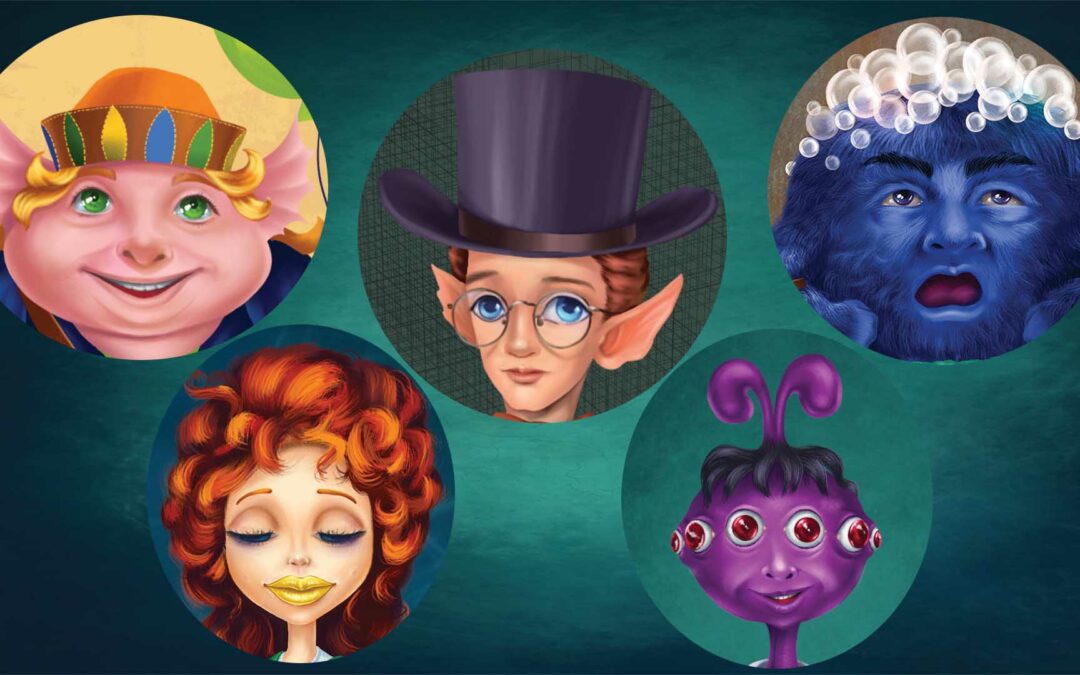 It's hard to believe, but the quirky, unpredictable Vowellans of Heaven's Wait originated within the pages of a remedial reading workbook that I self-published way back in 1981. I used the workbook to tutor struggling primary students, and I sold it to local bookstores.
While developing the project, I named the five main characters of the simple stories within the workbook San Ham Bat, Lek Net Pet (surname later became Net Ken), Kip Fig Wig, Mok Fog Bob, and Dun Rug Bum. I assigned their names as mere examples of the five short vowel sounds: a, e, i, o, and u. I also heavily embedded these sounds within the simple stories to reinforce the usage of the short vowels. For example, San Ham Bat wore hats, carried bags, ate ants, slept in pans, and kept pet cats. His dad's name was Mat, and his mom's name was Lan. These other characters had similar traits based on their short vowel sounds.
Below are some examples of the original illustrations for the workbook, drawn by a high school student by the name of Jon Gudmundsson. He attended Kennedy High School in Richmond, CA, where my husband, Mike, was a student counselor.
As I've mentioned in previous posts, I abandoned the workbook after the passing of my dad in 1984 and pursued other interests. In 2006, I came up with the idea of writing some little life-lesson stories, not only for fun, but to leave to my family as a sort of legacy. I realized I could resurrect the characters from my remedial reading workbook, leave the phonics lessons behind, and embellish the simple stories to make them whatever I wanted.
The simple stories grew, as did the characters' personalities. Before long, the five original characters took on lives of their own. Suddenly, they had families and stories to tell within their own "clans," as they came to be known. There were so many places to take these characters, as many as my imagination would allow. I found a multitude of interactions that were waiting to become stories, and I dove into the project head first. Since I had already established the vowel-based pattern, I named the collective inhabitants of their world The Vowellans and their little hidden community Vowella Valley.
I thought you might also like to see the visual progression of the illustrations for the central character amongst the Vowellans, 15-year-old Mok Fog Bob. He's had a fascinating and transformative journey in Vowella.
Today's Vowellans are a colorful, animated bunch, full of fun, mischief, troubles, and real relationships. They are characters on a mission to find their true calling. I think you will find them endearing, interesting folks. Their adventures are chronicled in my new 4-part Book Series, Heaven's Wait! Tales from Vowella. Find links to the books in the footer of this page to fully enjoy the Vowellans' stories.
If you would like to receive alerts for future posts like this, I invite you to complete the email form in the footer. That way, you'll know when I've posted something new, which is usually on Saturday mornings. B