Here is the new short video from the world of HW, Fun Facts: Heaven's Wait's Earthly Plants.
Heaven's Wait's beloved RJ PLOM had been a laboratory business officer in the UC Berkeley Botany Department before he embarked on his journey above. Knowing he would soon be leaving the mortal world as we know it, he packed up some treasured possessions to take with him upon his departure. Among his eclectic treasures were pictures of his family, a collection of VHS tapes, a good supply of Golden Grain spaghetti, and a fine collection of heirloom seeds that he had salvaged from the botany department once they were no longer needed. Growing plants from seeds was in his blood, and he couldn't imagine leaving this world without them.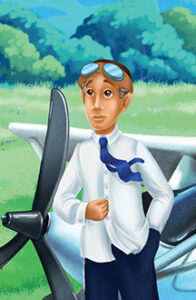 Once RJ settled into HW's quiet Vowella Valley, he planted and nurtured his seedlings until Vowella flourished with beautiful and nutritious vegetation. The plants blended perfectly into the unusual environment and its own fascinating assortment of native plants, which was completely foreign to RJ.
But RJ was most intrigued by the fact that a few earthly plants had made their way to this faraway world before his arrival. How they got there, he didn't know. RJ just went with the fact and moved forward in his new world.
Just for fun, here are Heaven's Wait's earthly plants in a short video. To discover more about the plants of HW, make sure to read the Tales from Vowella Book Series. See how many of the earthly plants play their parts, almost as characters, in the stories. Find the books in the footer links or at https://www.amazon.com/author/bmclaughlin