The playful Fahbee Flingbee is one of a number of unusual critters that inhabits Heaven's Wait. He is a colorful, insecure fellow who is often overly dramatic. He is not only a tiny, talking creature who speaks English with a Spanish accent; he is a self-proclaimed expert at romance, having been trained by the "greatest romantic of all time, Senor Cipriano Flingbee."
Fahbee and Vowellan San Ham Bat become inseparable pals. Fahbee endlessly tries to coach San in the ways of a romantic, but he is not a good example since he can't find his own love match. But he is a delight to those around him and a trusted friend in times of need.
While writing the Tales from Vowella, I thought it would be fun to work some sort of insect-like creatures into the stories that could bring a little humor as well as more fantasy to the stage. Hubby Mike came up with the species name once I threw out the description that floated through my head. "They are tiny, colorful, bee-like creatures that have wobbly antennae, long beaks, and curlicue tails. The Vowellans play a game with them where they grab them by their tails, swing them like lassos above their heads, and then fling them toward nearby trees."
"Well then, flingbees, of course."
And keeping in mind my Spanish roots, I decided to give this character an added splash of culture, later to be explored.
This is my own original drawing of Fahbee: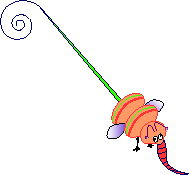 And this is Fahbee in his full glory, with his own sing-along theme song. Illustration by Julia Semionova. Enjoy! B